Free Cash for Taking Part in AttaPoll Surveys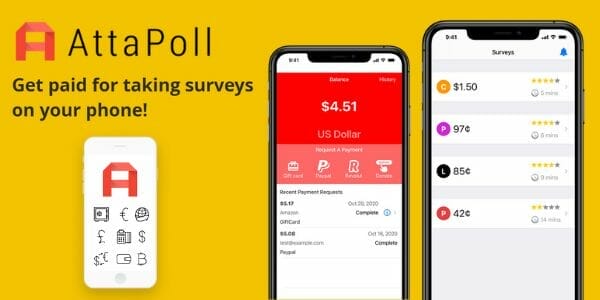 If you download the AttaPoll app on your mobile phone or tablet, you can take surveys to earn some extra cash. When you share your opinions, you help organisations and companies improve the services and products they have and develop new ones for the future. You can decide how long you want your surveys to be and how many you receive.
That's not all that AttaPoll have to offer, the best part? You can build your cash rewards and access them quickly because AttaPoll has a low payment threshold. There is also the option of donating your earnings to charity if that is something you would like to do.
Join AttaPoll today by clicking the green button below. The link will take you to their website, where you can find the download links for their app. Start earning extra money in exchange for your opinion by signing up with AttaPoll today.
AttaPoll is available in AT 
 AR 
 AU 
 BG 
 BE 
 BR 
 CA 
 CH 
 CL 
 CO 
 CZ 
 DE 
DK 
 EE 
 ES 
 FI 
 FR 
 GB 
 GR 
 HK 
 HR 
 HU 
 ID 
 IN 
 IE 
 IT 
 LT 
 LV 
 MX 
 NL 
 NO 
 NZ 
 PE 
 PH 
 PL 
 PT 
 RO 
 SI 
 SE 
 SG 
 SK 
 TH 
 & US 
You may also like…